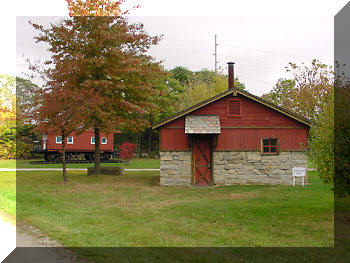 An enlarged reproduction of a Blacksmith's Shop in Vermont, this type of building would have been common in Amherst around 1870 and incorporates native Amherst sandstone.
Designed by our former Executive Director, Scott Kodger, and built by our gifted Construction Supervisor, Terry Traster, this building was completed in 1999, taking less than six months to construct. Ninety percent of the materials used to build the shop date before the Civil War, including a period slate roof, hand hewn and notched timbers, bracing wires, and hand carved, sandstone blocks from Amherst.
Thanks to swinging doors on each side of the Blacksmith Shop, up to 65 children or adults may watch a single blacksmith demonstration with a clear, unobstructed view. Each bracing pole used to prop up these doors is in itself a work of art, featuring portraits of animals, native leaves, nuts, or flowers–all handmade by our talented group of blacksmiths.
Our Blacksmith Shop has been an instant success and is home to our "Fire and Iron: Blacksmithing" program. Our volunteer blacksmiths produce handrails, hinges, nails and other hardware for use throughout our Sandstone Museum Center.
Located in Sandstone Village, 763 Milan Ave, Amherst, OH  44001